Our company is a reference point within the private passenger transport sector. Over 40 years of experience make us the best transport service option.
The Company has a large range of coaches, totalling over 100 with an average age of 4. All our coaches are equipped with the latest market innovations in both comfort and safety (ISO 9001/2000 Quality and ISO 14001/1996 Environment certificates).
Our main aim is to satisfy our clients' needs for either private or regular services.
TEAM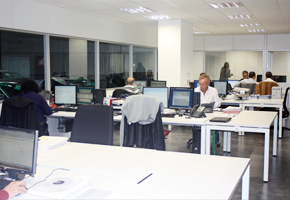 Autocares IZARO has a team of over 125 professionals from different disciplines, ready to offer rapid response to the needs of our clients. Our staff has a clear vocation for the service, working 365 days a year 24 hours a day in order to provide the best service possible. Our company offers total availability and flexibility.
Autocares IZARO staff are ready to offer you advice in response to your needs independently of the service, and also to guarantee your safety and comfort during your journey.
We use efficient control systems. These programmes improve distribution and inspection tasks for all our services in order to strengthen localisation and domains of action.

FACILITIES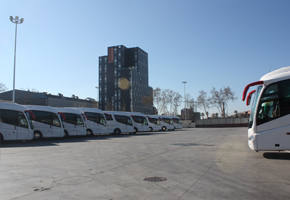 Autocares IZARO has ample facilities. Our company has its business headquarters and base on Mare de Deu del Port Street in Barcelona. We have 18,000 m² of offices and car parks for our own fleet of vehicles.
Our facilities include capacity for parking over 100 vehicles and all the technical equipment necessary for the maintenance of our vehicles. Offices, Traffic Control Centre, Training Centre, Body Workshop, Paint Workshop, Wheels Section, Petrol Station, Indoor and Outdoor Washing Area, Cafeteria, Dressing Rooms and Toilets.
PEOPLE WITH REDUCED MOBILITY (PRM)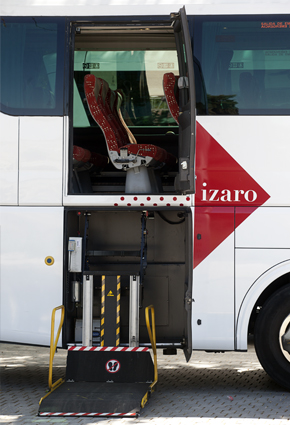 Our commitment to adapted transport
At Autocares Izaro, we anticipate the needs of passengers using our services. As part of our no barriers commitment, we specialise in adapted transport for people with reduced mobility.
We implement our own design
When we request new adapted vehicles, we work directly with the body shop on a specific design that suits our safety measures with our own improvements, such as: special seat belts for wheelchairs, a video camera for controlling the platform, replacement of the vehicle's heating, and so on.

Our vehicles adapt to you
Almost our entire fleet is completely adapted, allowing all our users to enjoy the same advantages and benefits equally.
Easily increase number of adapted places
The availability of adapted places allows us to increase the number of wheelchairs in the vehicle, depending on the circumstances, without any technical inconvenience.

QUALITY AND ENVIRONMENT
We are renowned for continually striving to improve and, as part of this, we have implemented an Integrated Quality Management System as per ISO regulation 9001/2000 and Environment Management System as per ISO regulation 14001/1996.
ISO regulation 9001, improves the organisational aspects of a company. We are conscious that it is impossible to be productive on the current market without offering technical quality. Bad organisation leads to a deficient product. All improvement benefits the final quality of the product and, therefore, the customer satisfaction – which is our main objective.
Thanks to our extensive experience in the field, we have clearly identified quality factors which our clients value in us:
• The quality, comfort, safety, cleanliness and standard of equipment in our vehicles.
• Punctuality, professionalism and availability.
• Continual renewal of the fleet.
At Autocares Izaro we want to contribute to environmental conservation so we implement company policies to help achieve it: acquiring more efficient vehicles, using alternative fuels that pollute less, limiting the speed of our vehicles so that they consume less, training our drivers to drive efficiently, planning our routes using specifically-designed planning aids, and a lot more.